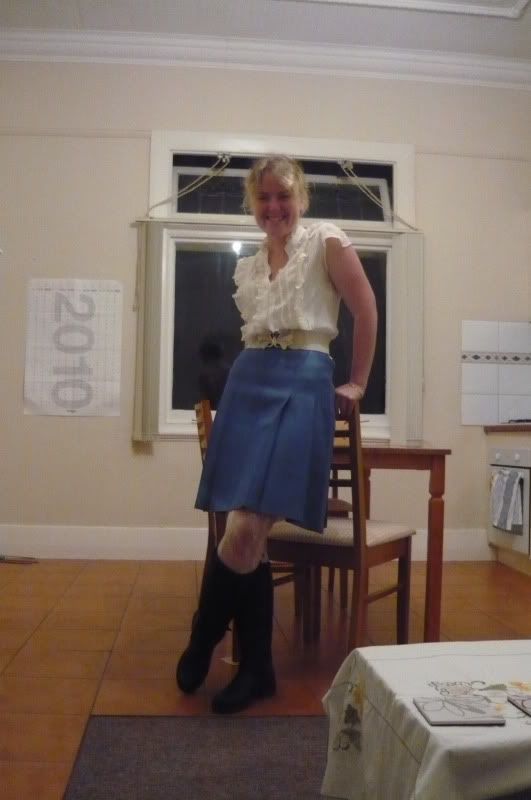 So I had a shocker last week, and as bad moods usually become obvious in my writing, I didn't want to inflict that upon you. However, as always there were a few things that helped brighten my dark and dreary mood!

Finding Style – I know I'm not usually one to blog about fashion, but Wednesday and Thursday I actually stumbled on a style I love. My usual style, or lack-thereof, is jeans and whatever shirt happens to be on top of the pile, with the occasional hippy-esque moment thrown in. Wednesday it was pretty cold, and I was not at all in the mood for jeans, so I fished out my blue knit dress, pulled on some black tights, my newly super-glued black boots, and my vintage brown leather jacket with a black scarf. Never had so many positive comments on a simple, everyday outfit in my life! In need of a bit of a pick-me-up, I splashed out on some new patterned stockings too, which added some serious oomph to the leg department instead of the tights. Then, having loved the confident, sexy me of the day before, Thursday had me raiding my wardrobe for something equally awesome for my job interview. Enter the outfit to the right! Pretty sure I spent half the time The Muso was trying to get a good photo cracking up. The cream tights and butterfly belt were late modifications, found while walking home. Apparently Mum is proud, having despaired until recent years that I would never be out of jeans, boots & chambray! LOVE having access to the whole of my wardrobe again (at least on my days off)!

Parcels from Far Far Away – I bought a couple of things from the lovely A @ The Glamourous Wardrobe, and they got here Friday morning! A cute ladybird watch pendant, which has barely left my neck since it arrived, a very green beret that will be perfect for winter, and a great book about sewing simple skirts. Looking forward to finding some fabulous fabric, and having a crack, given my desire to stick with this new look. I love this idea of blog-shopping, especially the way A. has set it up, with a portion of profits going to a charitable organisation. Please support her, and others like her in their endeavour to clear the wardrobes, and support good causes!

Op-Shopping – I love having a poke around in op-shops, you find so much in the way of awesome. I spent 20 minutes and $16 in the Lorne Community Hospital Op Shop on Saturday, walking out with a couple of nice tops, and a bright lime green summer dress. I was actually looking for some fitted skirts, but didn't find any. There's also a load of awesome Op Shops in Geelong, which I plan on hitting up next week in an attempt to fill out my wardrobe with some nice vintage pieces, random skirt goodness, and hopefully some colour!

Catching Up – With so much time spent in Lorne, I haven't got to see a lot of my friends much over summer. It was great this week to get to catch up with so many people, whether running into them by chance while out, or actually sitting down over lunch/tea/furniture moving. Hopefully now that uni is back, and with only two more weeks in Lorne, the social side of life might pick up again!

True Blue – I was looking around my room this morning, and suddenly realised that the purple that once dominated the colour palate of my life has been forced out by blue. Yes, there is blue EVERYWHERE! My diary, notebook, wallet, drink bottle, sheets, clothes, pen, towels, placemats, clock, new tea set, toothbrush. What I love even more is that this feels like it snuck up on me! Still love purple, but obviously my mind was telling me it was time for a change.

Notebooks – Something else I noticed this morning is that I have a massive stack of notebooks which I have bought with some specific purpose in mind, that I have never actually used, or have filled only a few pages in. Thinking if I put them all in a stack on my desk, rather than being spread around everywhere, I might actually start using them.

New Phone – I love my new Nokia N97! I changed service providers a few days ago, having had enough of Telstra. 3 seems to be pretty sweet so far, but my old phone wasn't compatible with their network. This may have been a blessing in disguise, because as much as I was surviving with my old phone, it wasn't particularly good at anything except sending text messages. This one not only is insanely easy to use, it actually works as a phone, as it doesn't cut off the first 10 seconds of every call you make! Yeah, I'm easily impressed. Still, awesome phone, awesome plan, and hopefully awesome ability to actually contact people!

Gala on Self-Love – I'm pretty sure I've mentioned this before, but Gala Darling has been doing an amazing series on Radical Self Love. I have huge respect for Gala, and wish she'd written this series when I was going through my rough times in '06-'08. It's all about learning to love yourself for who you are, not who everyone thinks you should be. So if you've been thinking that you're due a mental shake-up, check her out for a breath of fresh air!

Enough of my ramblings for today lovelies, I'm off to soak up the last rays of summer-like sun, with plenty of SPF30 of course!

Signing off to enjoy the sun before another night on the wrong side of the bar!

Neysa xoxo